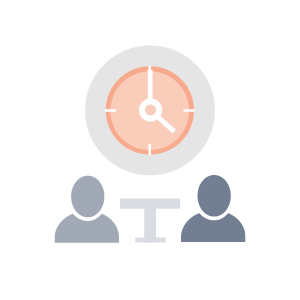 SPEED DATING
A speed dating exercise can be used as an effective icebreaker that allows participants to get acquainted at the beginning of the workshop. It can also be used for exchanging ideas on specific topics during the rest of the workshop.
OVERVIEW
The participants conduct time-limited conversations with their different speed dating partners, one after another, on specific topics (e.g. 4 min per topic with each partner). The exercise encourages active listening and allows for a quick exchange of opinions.
WORKSHOP PHASE
OPENING, CORE
NUMBER OF PARTICIPANTS
Minimum 10 participants
Depending on the size of the group, the participants can be further divided into smaller group for this exercise.
TIME |
MODE OF DELIVERY
Minimum 20 minutes | F2F & ONLINE
The exercise duration will increase for larger groups, involving more speed dating rounds.
PREPARATION
Before the session, the facilitator needs to define several topics or prepare relevant questions. The participants will respond to the list of topics/questions during their exchange with their speed dating partners.
Step 1
Participants are equally divided into two groups. The two group of participants can stand or sit facing each other in a circle or in a row.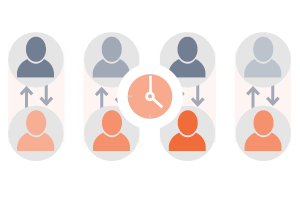 Step 2
The facilitator announces a first topic or question, and then the pair begins their exchange. Each person should allow a turn to take part in the discussion. After 3 or 4 minutes, the facilitator signals the end of the first round.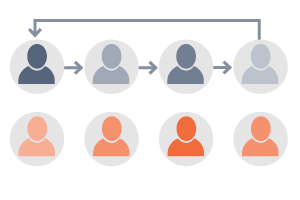 Step 3
One group of the participants stay where they are, while the other group move one position clockwise or anticlockwise, i.e. to a new partner.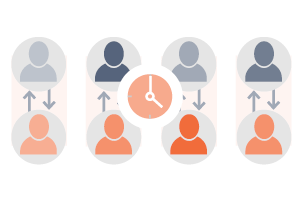 Step 4
The moderator gives a new topic for discussion, and then the new pair starts their conversation. Steps 2-3 are repeated until everyone has had the opportunity to have an exchange with all counterparts in their partner group.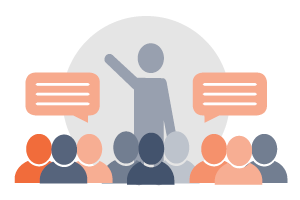 Step 5
The exercise can be concluded with a group debriefing – allowing participants to share what they have learned during the exercise.
The facilitator should factor in a bit of time for participants to change partners (e.g. moving to the left or to the right) and for announcing a new topic/question.
There should be enough physical distance between different partner groups to allow them to hear each other clearly, without too much disturbance from their neighbouring group.
If the workshop room is too small to accommodate all the groups, the moderator can consider using additional spaces / other rooms. This may require a co-facilitator in these additional venues.
If there is limited time available, or a bigger group of participants, the facilitator can consider creating four groups, or planning fewer rounds (i.e. not requiring an exchange between all group members).
This exercise summary draws from the practical experience of the database contributors, as well as the following resource:
Bernardi, P., Böddicker, N., Birnkmann, E., Hauch, H., Malzkorn, B., Reidt, E., Scherer, E. & Schneider K. (2021). Methodensammlung Für Dozierende der Heinrich-Heine-Universität Düsseldorf. Heine-Universität Düsseldorf.

https://www.sell.hhu.de/fileadmin/redaktion/Lehre/Hochschuldidaktik/Downloads/Methodensammlung2021.pdf
« Methods